---
Web Development Career Will Pay You High Or Less.
Do you think investing in web development skills is a bad idea in 2018? Then my simple answer will be definitely NO!. It is one of the most searched career paths in 2018 after machine Learning and Big Data. If you don`t believe me then go and have a look on the
Udemy.com
and you will find the most trending and best seller courses are from web development and languages like
Javascript
,
node.js
,
Ruby
,
React
and its framework
Redux
and Yes,
Python
, it is the
modern Swiss army knife
rightly said by best-selling course creator on web development topic, Colt Steel an Instructor at Udemy.
In a sense learning Python will open many gateways for you if you want to go for Machine Learning after Web development it will become very easy for you to jump to that field or you can stay with Web Development with python or javascript both are worth learning.
It is just the beginning back then we don't have internet and technologies like we have these days. We have just started to connect our offline business with the global customers and whenever there is a demand there is an opportunity.
Never think for money first follow your passion and money will follow you back.
Look in this competitive market, learning only one language will not pay more, you have to be an all-rounder. LearnCode.academy came up with a youtube video explaining, Must-Know web development technologies for a web developer, it is worth watching and I highly recommend you should check that out.
High Paying technologies.
Obviously, Javascript, Python, and their frameworks will definitely pay off if you have skills in them and if you develop something amazing which can attract you employer attention to simply say WOW then you will soon become a valuable employee of your company. If you have skills in design work (Front-end development) can introduce new innovative ideas to styling the website user interface or user experience then chances are that you will earn a lump sum amount of annual package. The starting salary of Front End developer is nearly ₹453000pa or ₹37,750 per month approximately. The major demand is in Mumbai and Gurgaon with 33% increase respectively.
More opportunity for experienced Web Developer.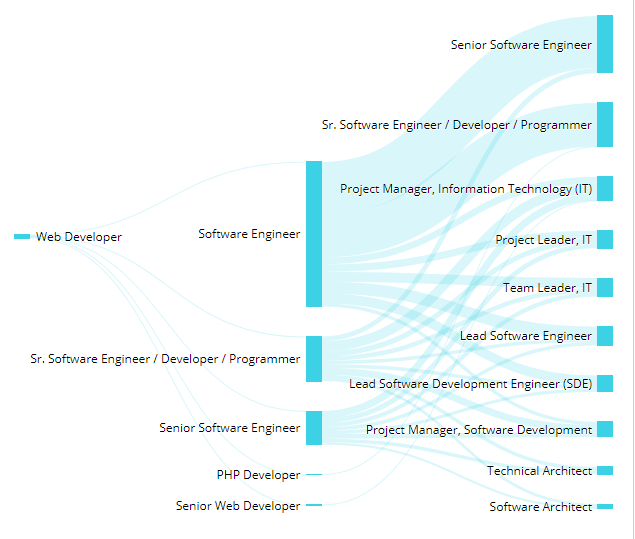 src: Payscale.com
Now if you want to become a full stack developer then you are on the right path there is more chance to land on a good job, you just reduced work of the employer being a full stack web developer because you are familiar with backend section and front end section. If you have got a job offer then give your full effort of 2 years on your job later you will see that your work will we more noticeable to the employer and they will soon promote you to a higher post with more responsibility.
So far you have understood that Web Development is a lucrative career choice. Now you might be thinking the what is the scope of web development. I have written another post on The Future and scope of Web Development. I highly recommend you that you must check that post.Now where to start for web development career? A big question mark here.


How to start learning web development.
To start learning web development first learn HTML5, CSS3, and JavaScript these three are the basic of web development. After learning these three languages they will open up endless possibilities for web development Javascript is still the most used frontend and backend web development choice than python because of the helpful community. It doesn't mean that I am trashing other languages but I am just talking on the basis of support and frameworks. You will find more Javascript developer willing to help at StackOverflow.
Now where to learn all these, I will recommend you take an online course or join some institute because if you don't have enough time to research on different topics on the internet and mastering them. If you have enough time and constant dedication and don`t want to invest money in your skills then you are good to go, else I will recommend you to take the Udemy`s The Complete Web Developer Bootcamp By Colt Steel. Trust me you will not regret taking this course, if you are a professional developer or a newbie there is always something new for every one.
After taking that course, Some tips are, You should
start
creating copies of some stylish websites try to figure out how they are made and recreating them will boost your skills to that next level. Merely just creating them will not work how have to feature them in your portfolio, don't hesitate to feature them in your portfolio because they are just a copy of other websites, You are just practicing later you will see a drastic change in your development skill. Creating website will become a piece of art for you and what it used to take 1 day will take 5 hrs.
Skill Improved or not you tell me?
After getting enough experience on these three languages try to give Mobile Web Specialist Certification Exam by Google. It will put you way ahead of your peer developer. How to get be prepared for the exam is for another post.
Currently, focus on starting with Html, CSS and Javascript, and one thing I want to make it very clear that if you have searched the web and came across to the website w3school they say learn web development, in my opinion, it is a good place to check code example like MDN Web Doc where you get a glimpse of example code how to use a function, methods, or any HTML tags. If you think you can learn from that Web Doc then you have to work hard.
That's All, for now, Thanks for staying with me till the end, hope I cleared your confusion on Web development career will pay you high or less.